Gluten Free Selection - More -in the Freezers
| | |
| --- | --- |
| Gluten Free Section | Gluten Free Freezer |
Freshly Baked Sami's Bakery
Bread, Bagels, Pizza Crust, Rolls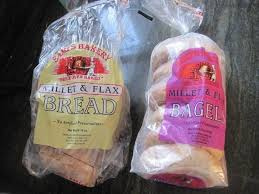 Sue's has Donuts: Vanilla Glazed and Cinnamon Sugar
Brownies
White and Brown Sandwich Bread
Bagels - Raisin Cinnamon, Plain and Sesame
Frozen Dinner: Pasta Primavera, Fettuccini Alfredo, Chicken Penne Alfredo, Chicken Pad Thai, Lasagna, Manicotti, Stuffed Shells
Fish Sticks, Turkey Corn Dogs and Chicken Nuggets
Ice Cream
French Toast
Soups: Chicken and Rice, Organic Mushroom, Roasted Vegetable and Tomato with Garden Vegetables
Pie Shells
Pizza Crust
Hot Dog & Hamburger Buns
Sue's has a large selection of wheat, gluten, corn, soy, and yeast free foods. This month we have added over 50 new products including cookies, chicken tenders, breads, chewing gum, hot chocolate, and more.
Companies we carry are Pamela's, Gluten Free Pantry, Kinnikinnick, Food for Life, Van's, Amy's, Tinyaka, Ener-G, Glutino, Anna's Gluten FREE mixes, Kashi, Blue Diamond, Deboles, Mrs. Leeper's, Bragg's Amino's, Ivan's and many more.
Are you traveling, moving to the area, on vacation, or looking for allergy foods? We have what you need. Don't hesitate to ask for other products if you don't see what you are use to getting. We strive to accommodate our customers and pride ourselves in customer service.